You guys, I can't believe I am saying this but… THE DESIGN STUDIO IS DONE!! This project took so much longer than I ever anticipated (contractor problems / uggggggh) but I am beyond excited to share the reveal! I wanted to create a space that was bright and functional and I'm SOOOOO happy with how it turned out! My little happy place.
What a mess it was before!!!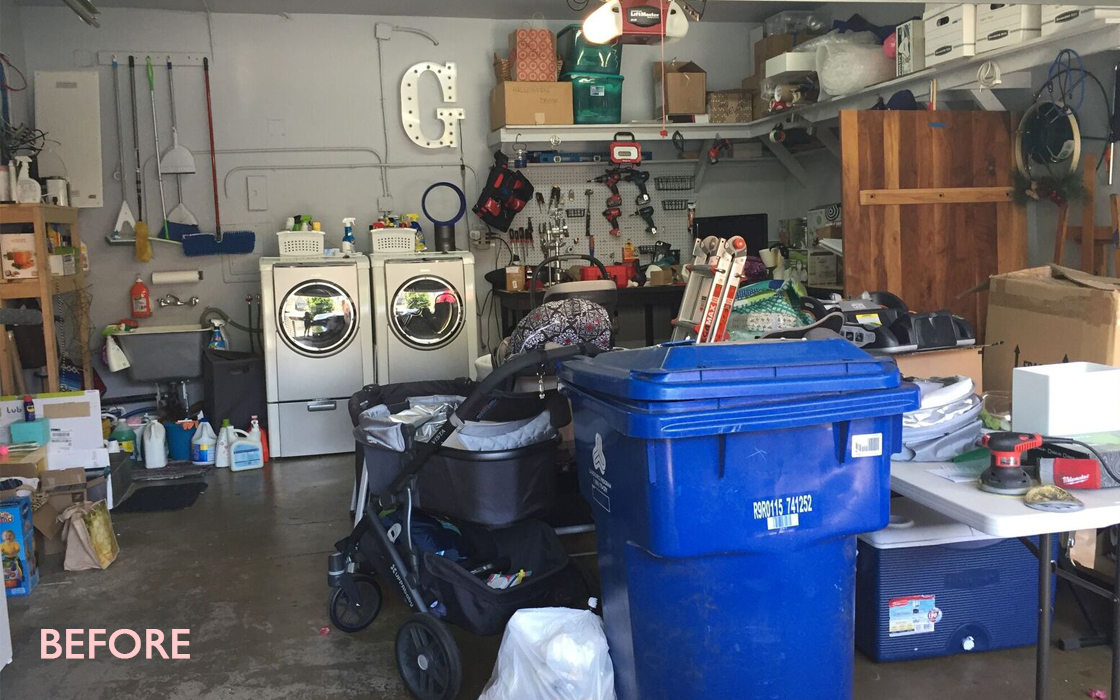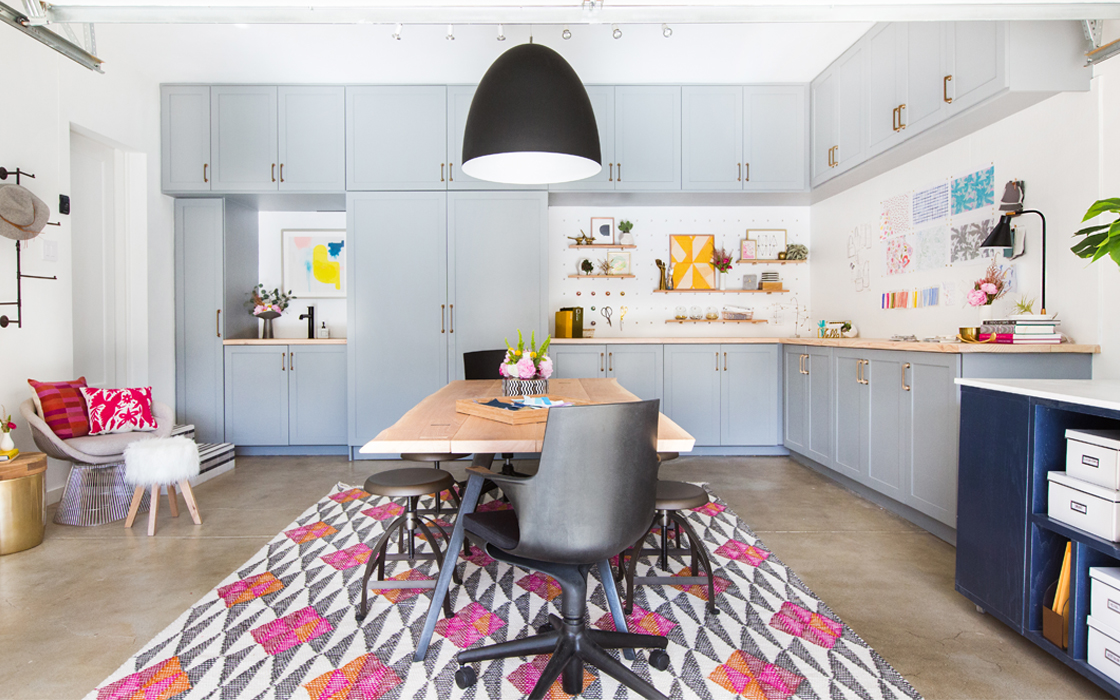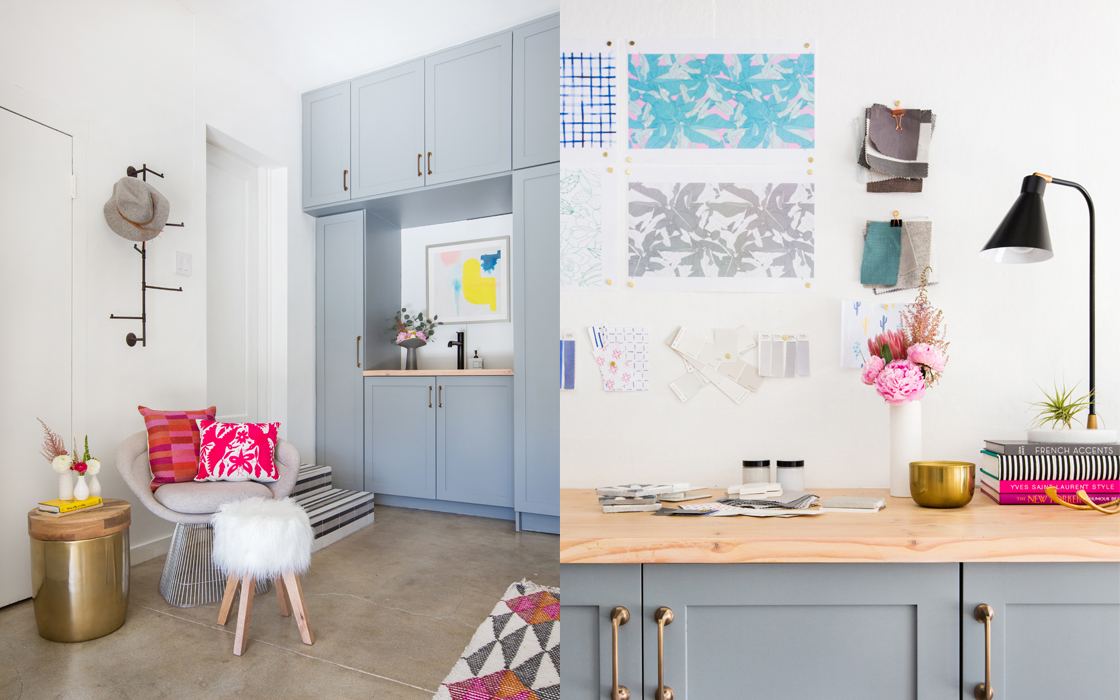 When turning the garage into a workspace, I knew I wanted a huge light fixture over the table. The only problem was that the motor for the door was right where I wanted to hang the pendant..total buzzkill! I found the Liftmaster side garage door motor and knew it was the perfect solution! I love that it's completely out of the way and I can still open the door for a nice breeze and natural light when we are shooting projects. Another huge upgrade was the ductless Mitsubishi HVAC system. I wanted to extend our AC system to include the studio, but we found out in the process that it wasn't possible. So, thank goodness for this system. I'll be especially grateful in the hot summer months.
A few other favorites… the laser cut peg board and my enormous tack board. I found a CNC company in the valley and reached out to see if they could laser cut the pattern on a 8′ x 4′ board. It was done in a matter of days! I cut dowels down in different sizes depending on use (5″ for shelves, 4″ for washi tape and 2″ for holding scissors and such). The shelves were already cut douglas fir I got at the local lumber yard.
On the other side, I wanted a huge tack board for my designs, fabrics, etc. I decided to make it a DIY project using homasote, which is basically recycled compressed paper. I cut it to size, screwed it into the wall, caulked the edges and painted it the same color as the walls. It's 10 1/2 feet wide and I absolutely LOVE it. Oh, and it cost me less that $100 for the whole thing! You're probably wondering if you can see tiny little holes from tacks. The answer is yes but it doesn't bother me a bit.
All shopping details below! What do you think??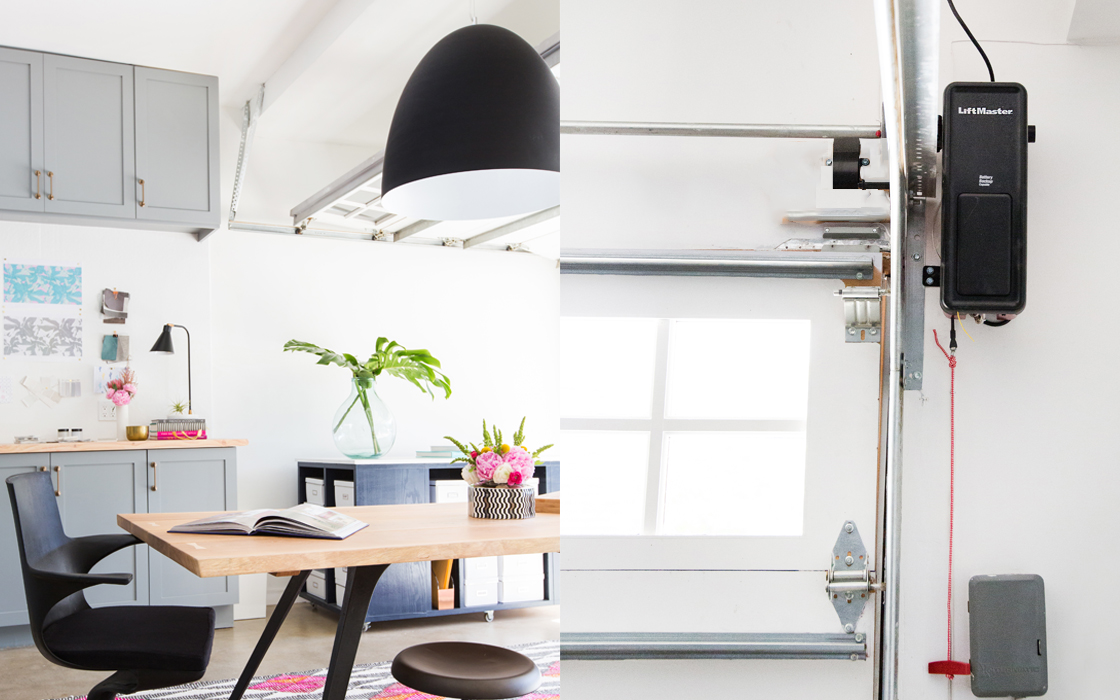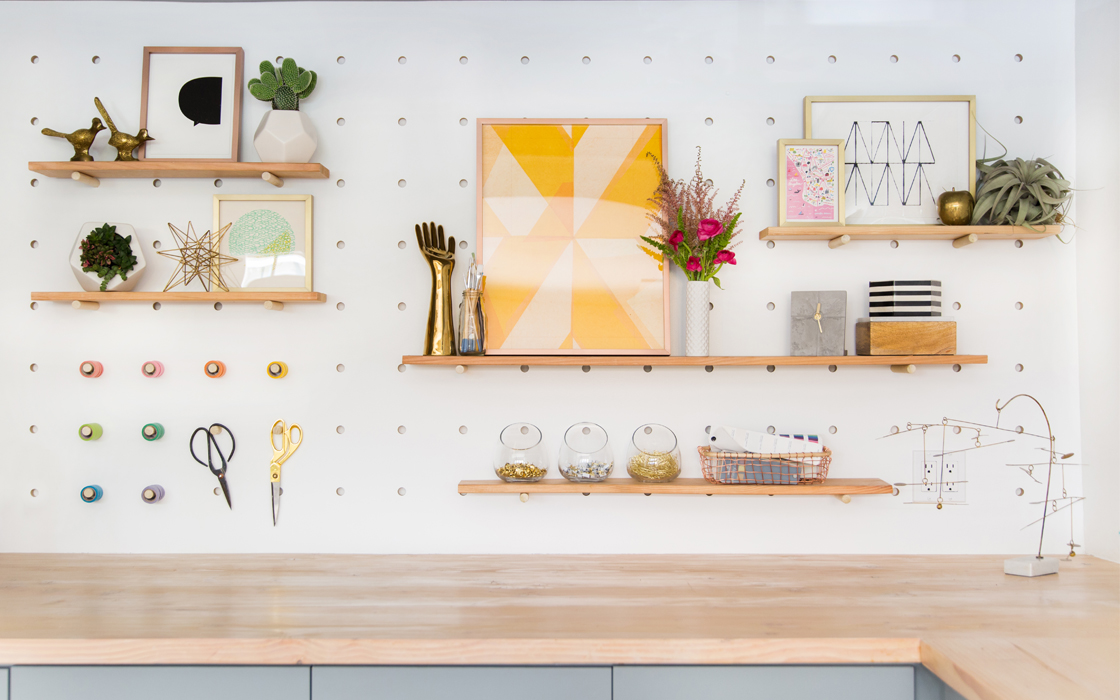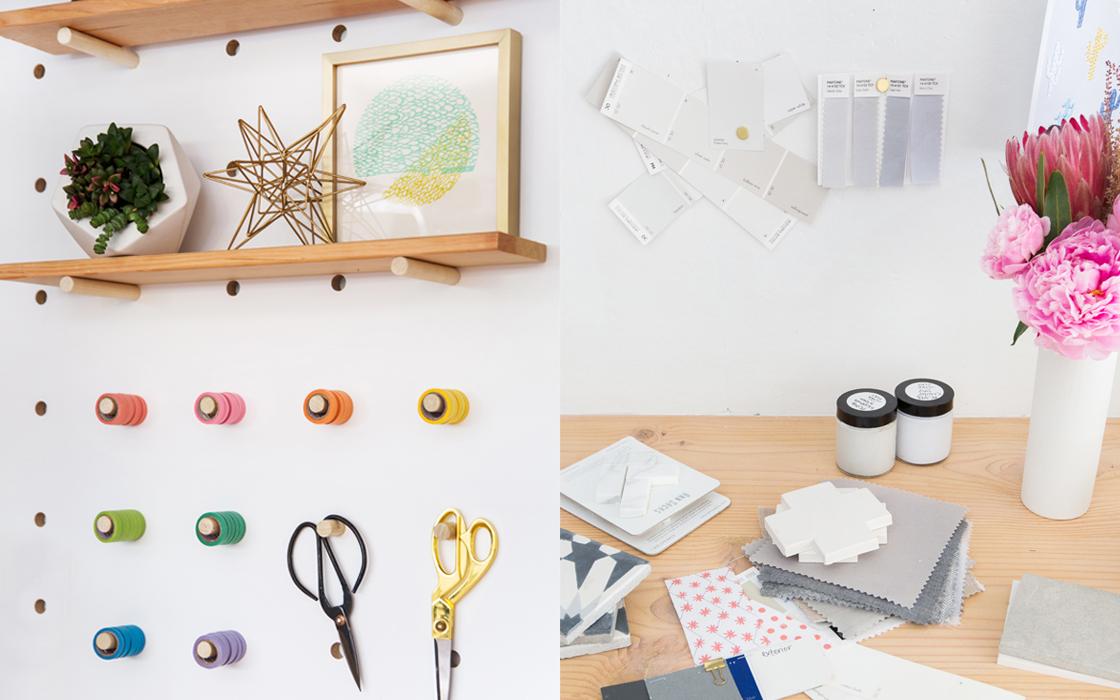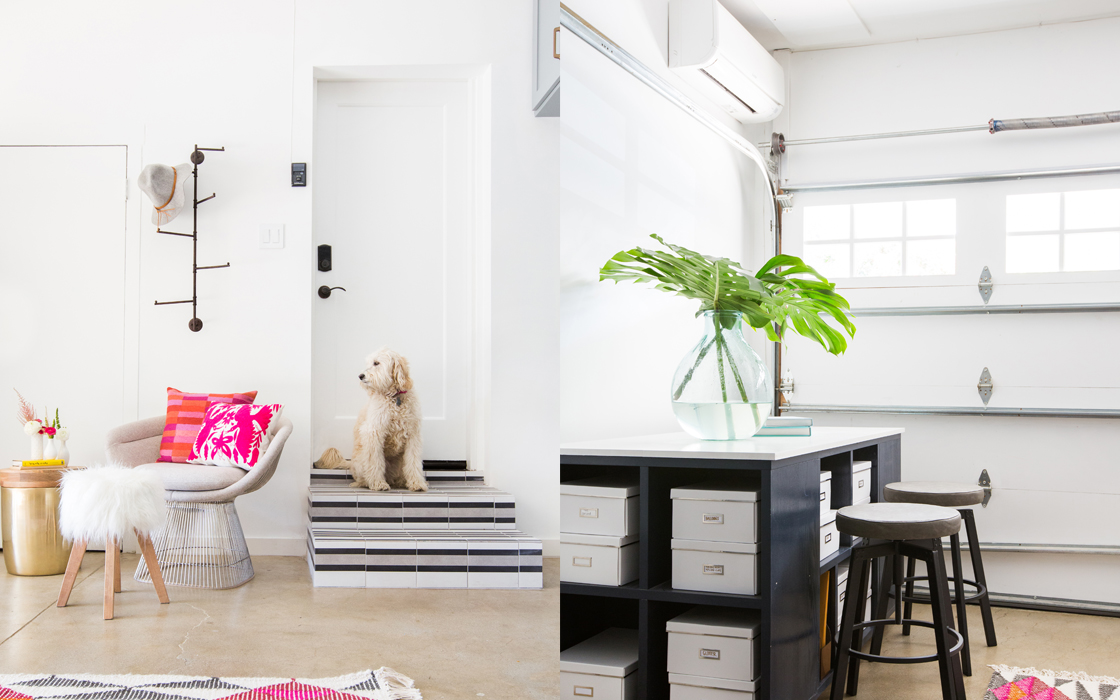 Shop The Studio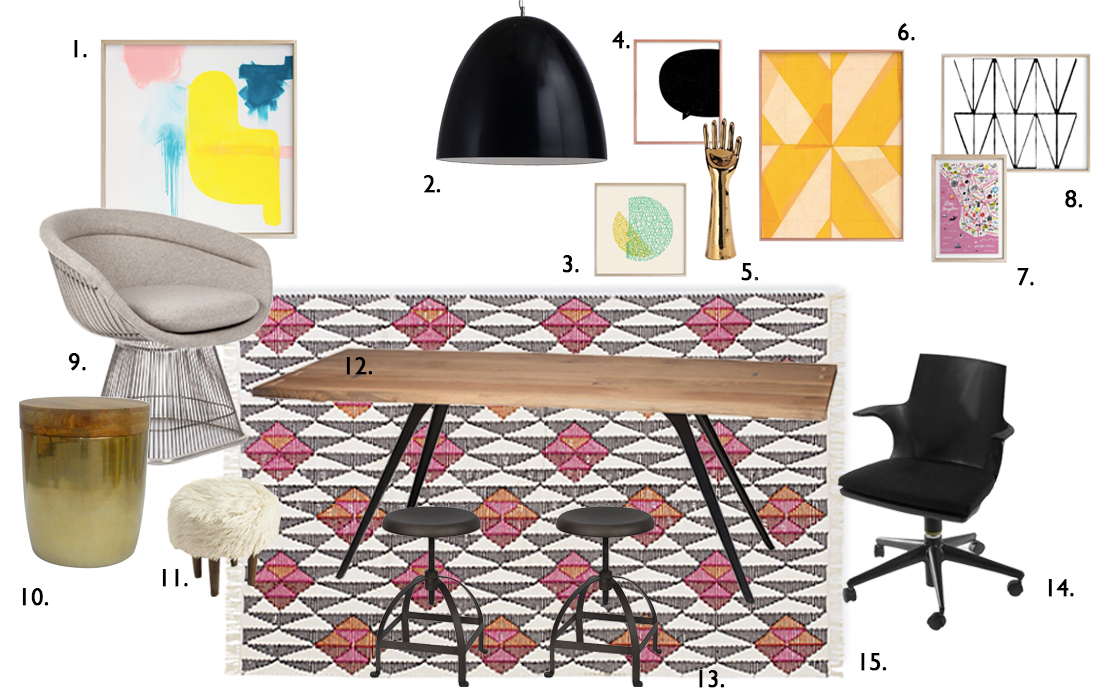 1. Splatter Art / 2. Black Pendant Light / 3. Small Print / 4. Speech Bubble Print / 5. Gold Hand  / 6. Yellow Art Print / 7. Los Angeles Art / 8. Black and White Print / 9. Arm Chair / 10. Storage Drum Accent Table / 11. Faux Sheepskin Stool / 12. Live Edge Table / 13. Metal Stools / 14. Black Office Chair / 15. Geometric Rug