Today I'm sharing an inside look at the top 5 Interior design trends you need to know about! I was so excited to share these looks I put together and with one click, you can shop them for yourself! I'm loving the rich color palettes that set the tone for each trend.
Old Havana
My favorite, as a Cubanita myself, this trend's rich and vivid colors can be adapted to any space… muted for sophistication and vibrant for the kids. Textiles in tropical prints like banana leaves and large palms bring life to the look. Other major elements include fabulous metals and fun tiles (painted, cement, or tile stickers pictured). Inspired by art deco shapes, this look is both timeless and fresh! I'm loving it all!
1. Cuba Print / 2. Velvet Deco Sofa / 3. Overdyed Rug  / 4. Round Coffee Table / 5. Stripe Throw / 6. Tile Sticker / 7. Palm Leaf Pillow / 8. Scallop Print Pillow / 9. Geometric Pendant Light
Pop Future Pink
Bright and muted tones of pink set the backdrop for this retro modern trend! As you know, I love pink so naturally this trend is one of my favs! The look is all about warm tones contrasted with black accents. Both playful and bright, this trend is great for kids spaces and boasts a 70's flare. Here are some of my top picks from the trend…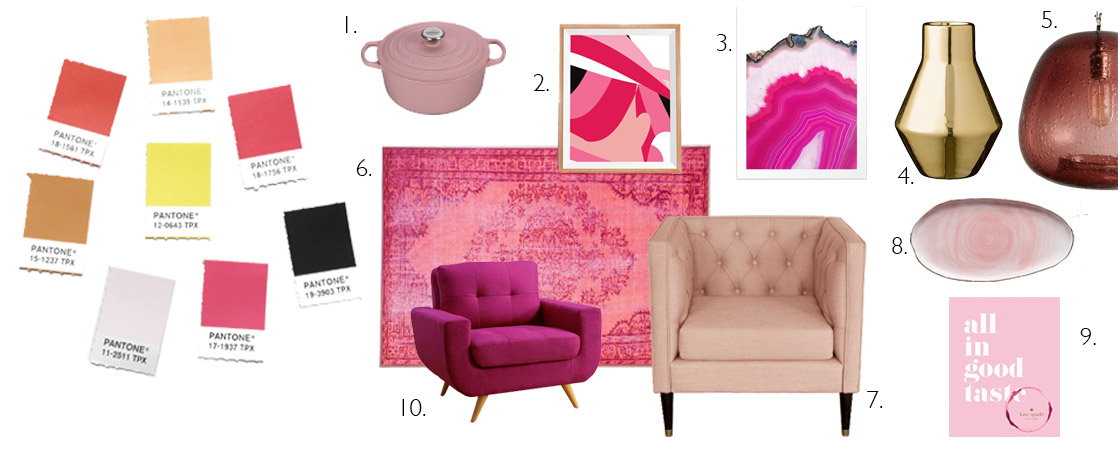 1. Le Creuset Dutch Oven / 2. Retro Art Print / 3. Agate Art Print / 4. Gold Vase / 5. Glass Pendant / 6. Overdyed Rug / 7. Blush Chair / 8. Hand Painted Dish / 9. Kate Spade Coffee Table Book / 10. Fuscia Chair
Cozy Cool Cottage
This Fall/Winter 2017 design trend is all about cool tones and vintage accents. Incorporating different shades of blue and purple give the illusion of depth while modern elements and vintage pieces blend to create serenity. I found this great agate bookend from West Elm and I love the way it works with these picks!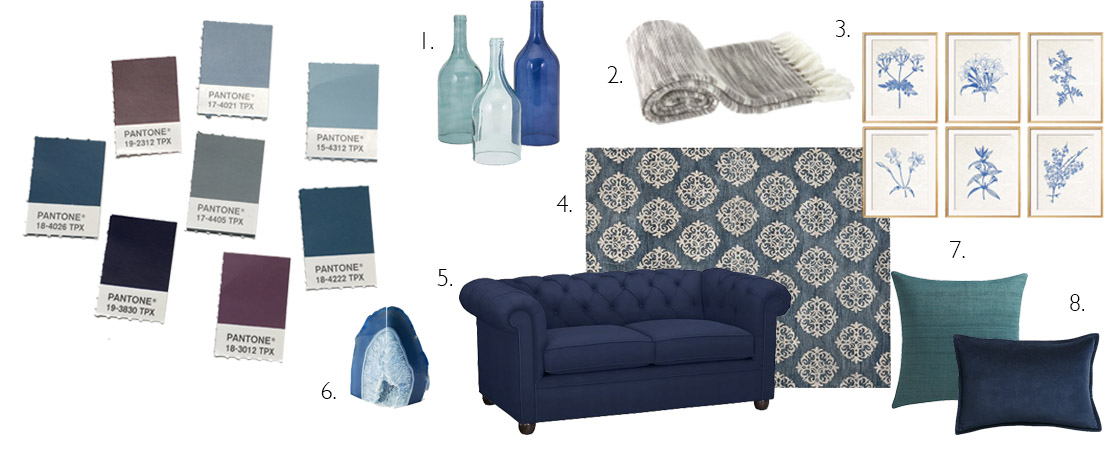 1. Glass Vases / 2. Grey Throw / 3. Blue Botanical Prints / 4. Indigo Area Rug / 5. Navy Chesterfield Sofa / 6. Blue Agate Bookend / 7. Teal Pillow / 8. Navy Velvet Pillow
Design Dramatic Italian
Inspired by rich Italian reds, this trend is all about the drama! Pre-spring, these deep colors and luxurious textures are sure to create ambiance in any space. Brick, industrial elements, and fabulous velvet work together and add layers to the look. Gold is huge lately and plays so well with this color palette!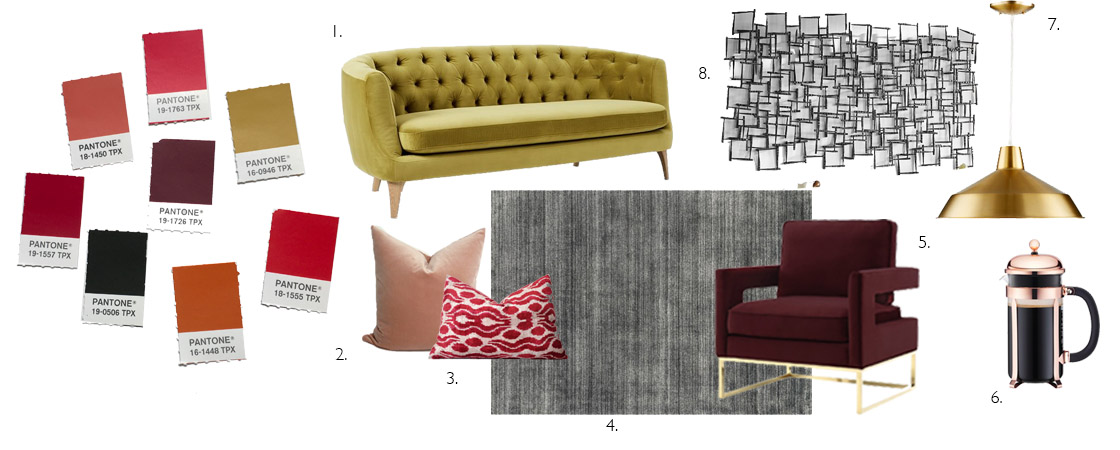 1.Velvet Sofa / 2. Blush Pillow / 3. Red Ikat Pillow / 4. Heathered Grey Rug / 5. Burgundy Chair / 6. Coffee Press / 7.Gold Pendant Light / 8. Wall Sculpture
Nordic and Natural
Let's talk minimalism! With the focus on natural light and elements of the outdoors, this trend is both modern and understated. Tones of grey combine with fresh green elements and create a quiet, serene space. A few of my favorite pieces for this trend include these crisp prints I found on Etsy and that chic Sofa from West Elm.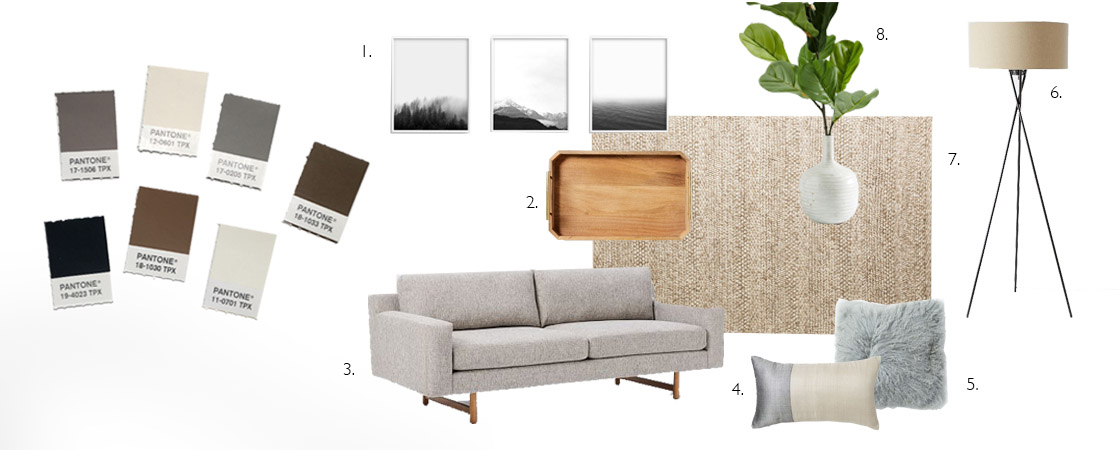 1.Black and White Prints / 2. Wood Tray / 3. Grey Sofa / 4. Silk Pillow Cover / 5. Mongolian Fur Pillow / 6. Floor Lamp / 7. Natural Fiber Rug / 8. Fiddle Fig Branch
Which of these 5 trends was your favorite? Let me know in the comments!
Xo!