I seriously love a good pasta dish! So, for lunch today… I whipped up this quick and easy Vegan Avocado Basil Pesto Pasta with Roasted Squash dish that I wanted to share with you. I made it with spaghetti pasta but it is also really good with spaghetti squash! This is super filling, packed with healthy fats and super easy to make!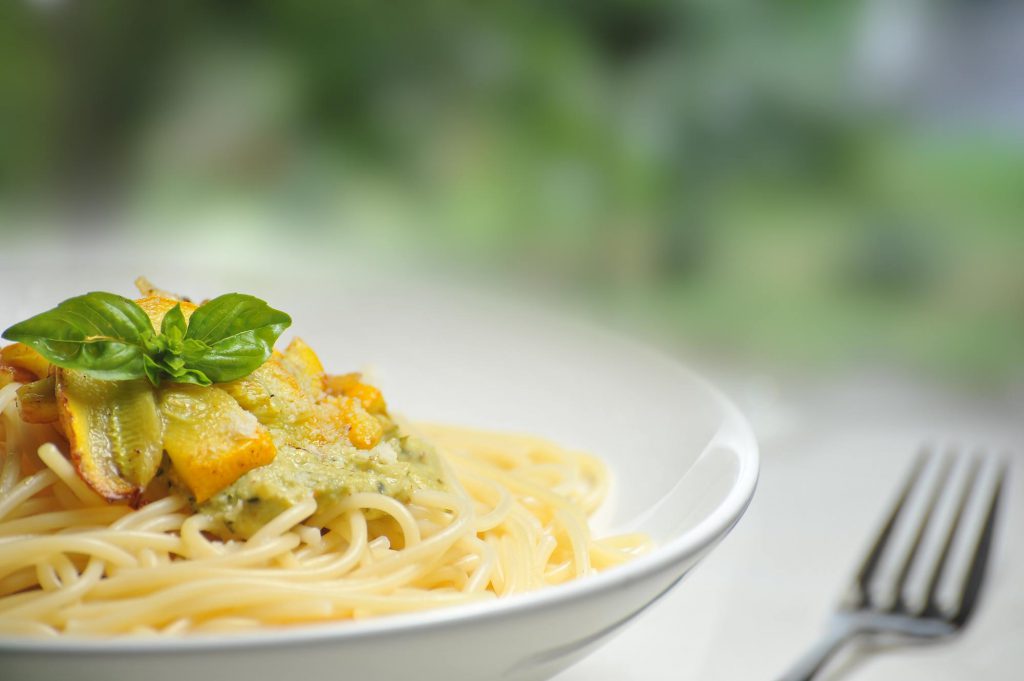 What You'll Need
Spaghetti pasta or one large spaghetti squash, cooked
Two small yellow squashes
Basil (for garnish)
Garlic powder
Salt & pepper
For The Sauce
1 cup fresh basil
1/2 cup water
2 Tablespoons fresh lemon juice (about 1 lemon)
2 cloves garlic
1 ripe avocado
A dash of salt and pepper to taste
Instructions:
Cook pasta or spaghetti squash and set to the side. In a large pan, heat up one tablespoon of olive oil. Slice the yellow squash into fine strip and sauté for about three minutes on each side or until soft. Season with garlic powder, salt and pepper before flipping. While the squash is sautéing, blend together the basil, water, lemon juice, garlic and avocado into a food processor or blender. Salt and pepper to taste.
Assemble and garnish with basil!
Vola! Super easy, vegan avocado basil pesto pasta with yellow squash!!
*Pro Tip: I like to toss the noodles in just a little bit of olive oil and garlic to give them a little move flavor before adding the pesto and squash!
Shop The Post