Just in case you missed a Facebook live last night, I made pigs in a blanket three different ways. The first one was a Jalapeño Popper, followed by a Bacon Wrapped version and then a Sweet and Spicy one (Portuguese Sausage paired with a sweet chipotle jelly). Now, on Facebook Live, I thought you just serve the sausage one with a side of jelly…. but today, I made them with the jelly inside the cresent roll before baking and I have to tell you… DEEEEEEEEEEElish.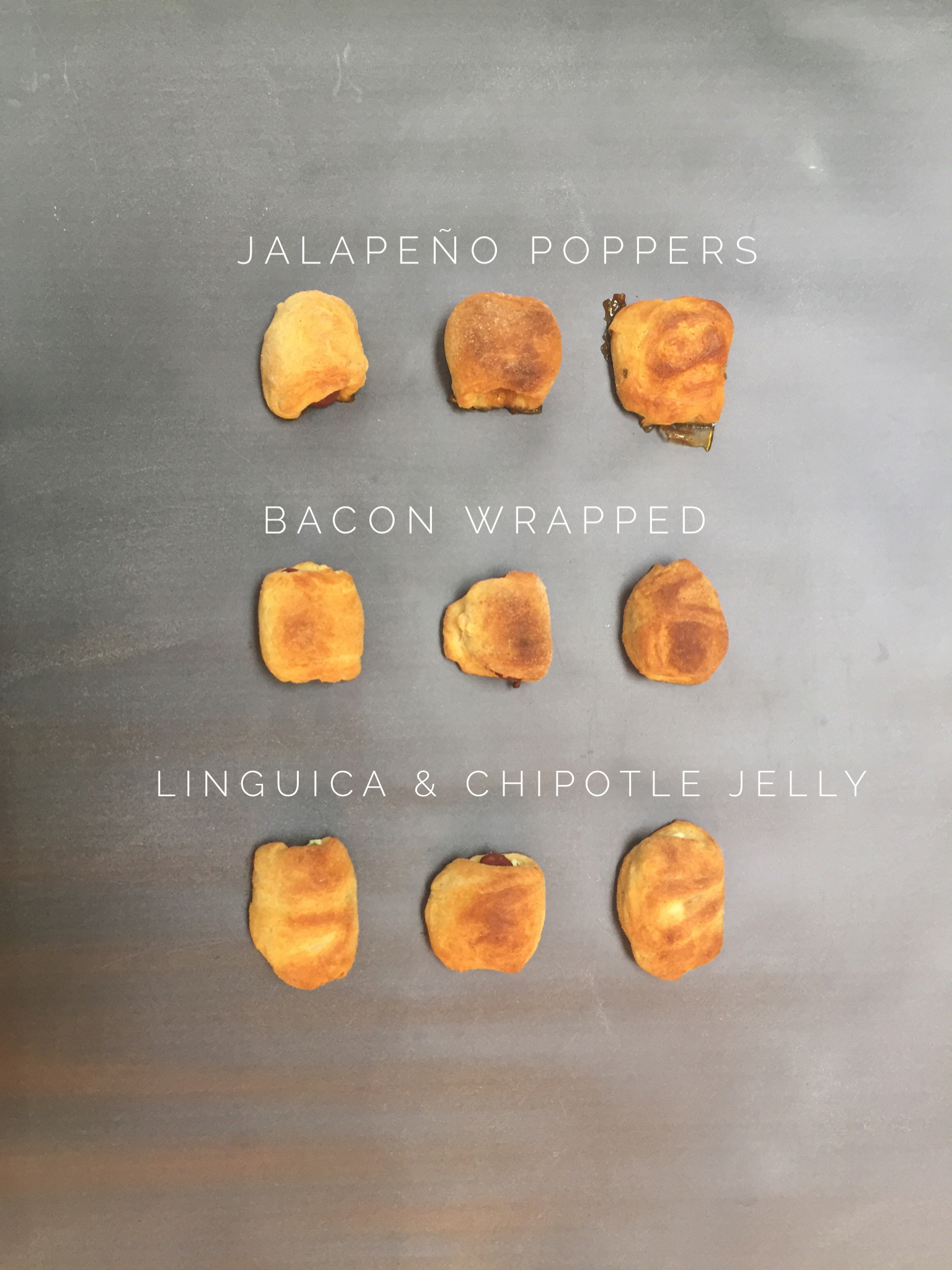 Watch the video for instructions… but ingredient list is below.
Basic Pigs in a blanket: Crescent Rolls and "Smokies" or Hot Dogs (cut into pieces) PLUS….
Jalapeño Popper: You'll need 1Jalapeño and 2-4 oz. Cream Cheese (mix 2oz. of cream cheese and a quarter of a chopped jalapeño. Only add seeds if you really like the spice. Put a little bit of the mixture on top of the smokie, wrap and bake.
Bacon Wrapped with Dijon Aioli: A few cooked strips of bacon, Dijon Mustard, Mayo, Salt, Lemon Juice, 1 clove of garlic. Wrap the bacon around the hot dog before wrapping in crescent roll. Serve with Dijon Aioli. (1/2 c Mayo, 1 clove garlic minced, 1 tablespoon of whole grain dijon, 1 tablespoon of dijon, 1 teaspoon lemon juice, dash of salt)
Sweet & Spicy: Hot Linquica Sausage and Sweet Chipotle Jelly (I get mine at the Farmer's Market… but just try to find a smoky sweet jam at the market). Place a bit of jelly on top of a slice of sausage before baking. This is a really delicious combo!
Watch to see it unfold LIVE on Facebook!!