If you follow me on social media you know we took a fun family vacation at the beginning of this month to a farm in Cabo called Flora Farms. I gave a tour of our cute house and the vegetable gardens on Facebook Live last week (in case you missed it, it's here). It is one of my absolute favorite places and was such a relaxing time to cook, recharge and hang out. We harvested our own vegetables, took cooking classes and hung by the pool so I kept things pretty casual outfit wise. Most days I opted for just a swimsuit and sunscreen- heaven!
See below for some of my favorite items from the trip…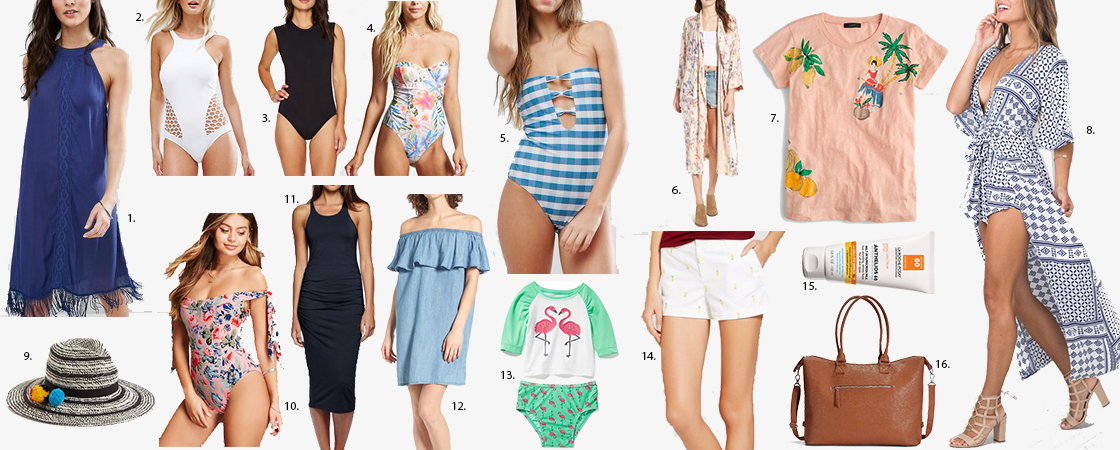 1. Beach Dress (Asos) / 2. Mesh High Neck One-Piece (Seafolly) / 3. Cap Sleeve One-Piece (Asos) / 4. Floral One-Piece (Forever 21) / 5. Gingham One-Piece (Asos) / 6. Floral Print Robe (Nordstrom) / 7. Vintage T-shirt (J.Crew)/ 8. Navy Playsuit (Showpo) / 9. Panama Hat (Nordstrom) / 10. Floral One-Piece (Forever 21) 11. Racerback Midi Dress (Nordstrom) / 12. Chambray Cover-Up (Nordstrom) / 13. Flamingo Rashguard Set (Old Navy) / 14. Embroidered Pineapple Shorts (Target) / 15. La Roche-Posay Sunscreen (Amazon) / 16. Sabrina Soto Diaper Bag (Nordstrom)
Where are you guys vacationing this summer, I would love to know!
Xo