We have all been there, you are a new parent and you promised yourself you were going to keep your design aesthetic the same even after kids. You weren't going to have toys everywhere and you were going to keep that white sofa…..and then one day, before you know what happened, you are debating moving your coffee table into the closet! I mean, when I was pregnant and decorating this house, I bought a glass coffee table and tons of delicate accessories. What the heck was I thinking?? I don't want to blame anyone, but I do have to say a friend of mine said he NEVER changed one single thing in the house when they had kids and swore I wouldn't have to. I still have no idea how that's possible… and their house is always immaculate. This friend is also an amazing designer and a dear friend. Any clue who I'm talking about?? 😉
Anyway, if I have learned anything from motherhood, it's that life with a toddler is anything but predictable and moving some of your furniture around is probably the least of your problems (this past weekend Olivia was adamant about not wearing anything that had jean material – oh boy)! But all is not lost, below I am giving you my simple tricks for keeping your home kid friendly and holding onto your pre-children style…let me know your questions for designing a home with kids in the comments below!
xo SS
Rethink your Coffee Table
When you have a toddler running around anything with a hard edge is going to be an issue. Instead of giving up on having a coffee table altogether, round tables and upholstered ottomans are a good alternative. Want the flexibility of giving your little one more room to play in your living area? Keep light nesting tables next to your sofa so you can pull them out when you want and keep them tucked away for play time.


Embrace Different Fabrics
There are certain fabrics that are just not going to be conducive to a kid friendly household (I see you velvet!), but that doesn't mean you have to give up style. Furniture in leather, wool and microfiber are great alternatives and a lot of furniture companies have come out with their own performance fabrics for just these situations. And if all else fails furniture with slip covers are a great way to keep your home stylish and clean! (photo credits: @anthropologie)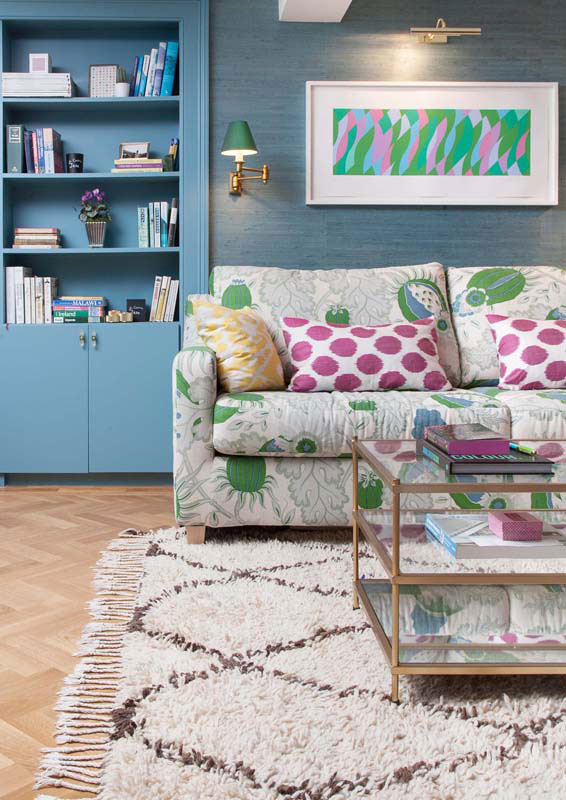 Kick Up the Patterns
Stains are inevitable when you have kids and sometimes, no matter how diligent we are, we just don't get to them in time. Nothing hides a stain better than a pattern so embracing them during your children's younger years is going to be key. If you are a minimalist at heart, no worries there are some great neutral patterns that will do the trick as well! (photo credit: @thepinkhouse)


Think Storage
Stylish storage is going to be key to keeping those legos corralled and allow you to transform your living space from kid central to adult oasis in a flash. Depending on your layout you can tuck toy chests behind your couch, hang a bookshelf or choose some decorative pieces, like a media console or bench that do double duty. (photo credit: @urbanoutfitters)