When I started the podcast in the Spring of 2019, I had no idea what it would become. I didn't know how to run a show, who I would interview, or where doing the podcast would lead me. I just knew that I wanted to have honest, candid, conversations about topics that were important to me (like motherhood, design, and friendship) and share them with you. From Bobby Berk, to Nicole Curtis to Mike Dooley to John + Sherry from Young House Love, I have had some incredible guests on the show and have had countless hours of insightful conversations that have taught me more than I realized I would learn! Season One was such a blast and I am SO thankful to all of my guests who have taken the time to sit down with me and be so open with sharing their stories! We are a few episodes into Season Two but I wanted to do a roundup of my Top 10 episodes from season one in case you missed any!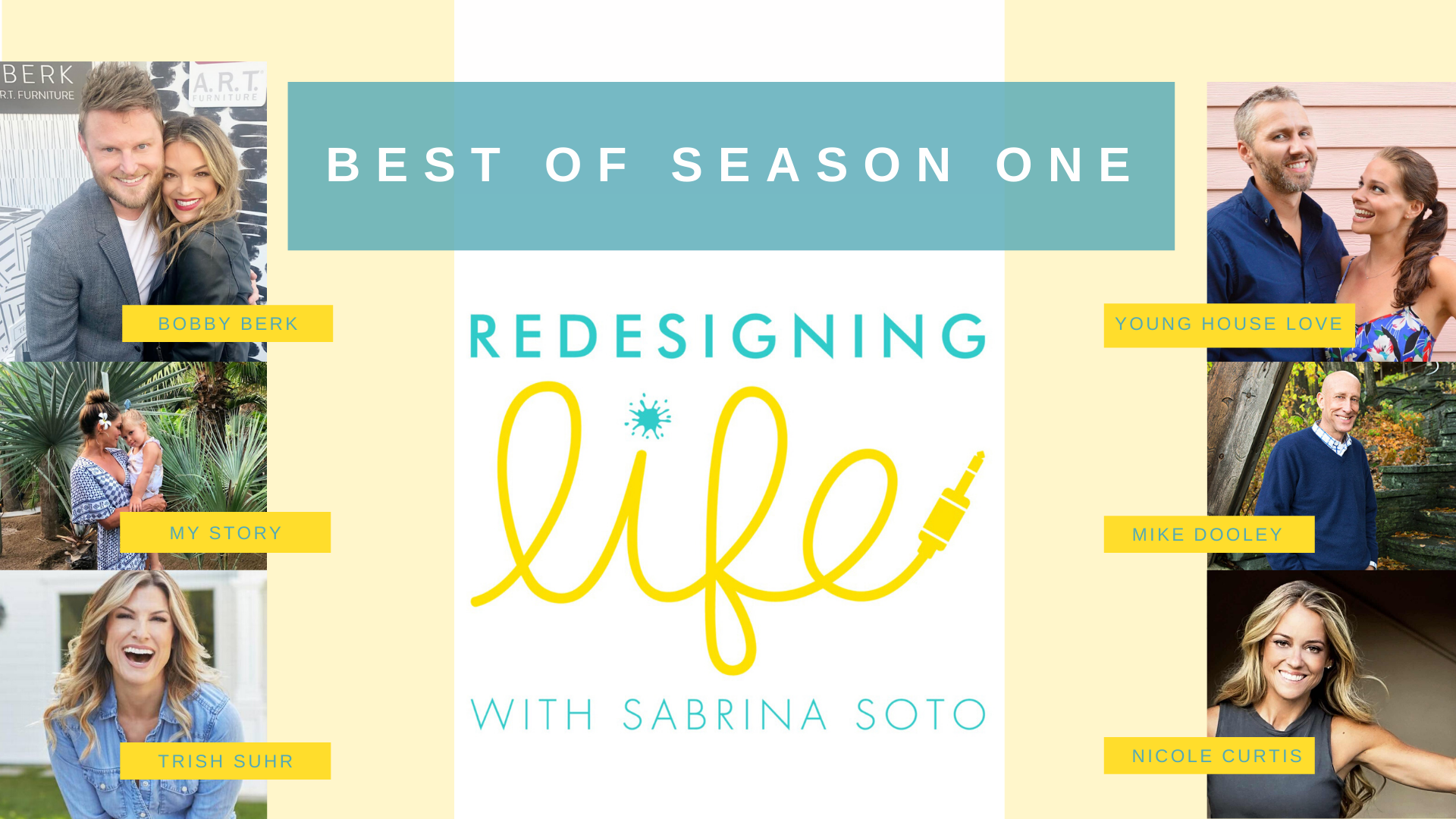 1. Young House Love: John + Sherry discuss their blog, working together and advice for saying "no" – These two are the definition of a POWER COUPLE! They are such kind, talented and hardworking people and having them on the show was an honor to say the least. I loved this episode because the idea of saying "no" is so hard for most of us and the way they broke it down was so helpful!
2. Mike Dooley: Thoughts Become Things – This is such a powerful episode!! Mike Dooley is a New York Times Bestselling author, speaker, and entrepreneur in the philosophical New Thought movement and I became aware of him and his work after watching "The Secret" which he taught his idea that "thoughts become things" aka The Law of Attraction.
3. My Story: Breakups are the Pits Part 1 & Part 2 – I was TERRIFIED to share these two episodes. It is the most vulnerable I have ever been on the show and I get real real as I give the details on my split with the father of my daughter and my partner for a decade.
4. Nicole Curtis: On Dating, Money and Tabloid Rumors – Nicole and I discuss discuss dating in your 40's (and dating when you have kids), how she handles money in her relationships and her thoughts on tabloid rumors.
5. My Story: How I Began My Career on TV & How I Stay Motivated During Tough Times – My first episode of the show, this was such a fun piece of me to share. I share everything from how I grew up to how I manifested my career on television. No part of this journey has been easy, but looking back on it, it has all been worth it.
6. Trish Suhr – Letting Go of Toxic People and a Good Ugly Cry – I've had Trish on the show multiple times this season and every time, it's been a blast. Trish is a hilariously candid open book who bared her soul with me in this heartfelt episode. We discuss her divorce, how to know when it's time to let go and what to do when you're contemplating it all.
7. My Story: Single Parenting – This was a topic I got a LOT of requests to cover. As hard as this topic is, I really enjoyed talking about being a single parent, the struggles and what I do on a daily basis to try to be the best version of me for both myself and Olivia.
8. Bobby Berk: His Success Story & Dealing with Competition – Bobby has been a friend for many years and is one of the kindest, most genuine souls I have ever met. He discusses how he got his start in design, how Queer Eye has changed his life and how he handles the pressure social media.
9. My Story: Beauty Hacks – From Botox to jojoba oil to shaving your face, this episode covers it all.
10. Joel Salomon: Manifesting Money – Joel Salomon is a "Prosperity Coach" and the Best-Selling Author, Mindful Money Management: Memoirs of a Hedge Fund Manager and The 9 Money Rules Millionaires Use: Only The Unconventional Ones. On this episode, we discuss how to manifest wealth in your own life.
I am so thankful to be on this journey with you and so excited to see what comes next for the show! I've got some great things lined up for you for the rest of Season 2, but let me know in the comments if there are any guests you'd like me to interview or any topics you'd like me to cover!
xo, Sabrina