If you've been following me for any amount of time, you know I love a good glass of wine or a killer cocktail. A few years ago, Trish and I mastered the Spicy Paloma Cocktail (you can check it out here) and with New Years Eve right around the corner, I wanted to give you a few more of my all-time favorite drink recipes.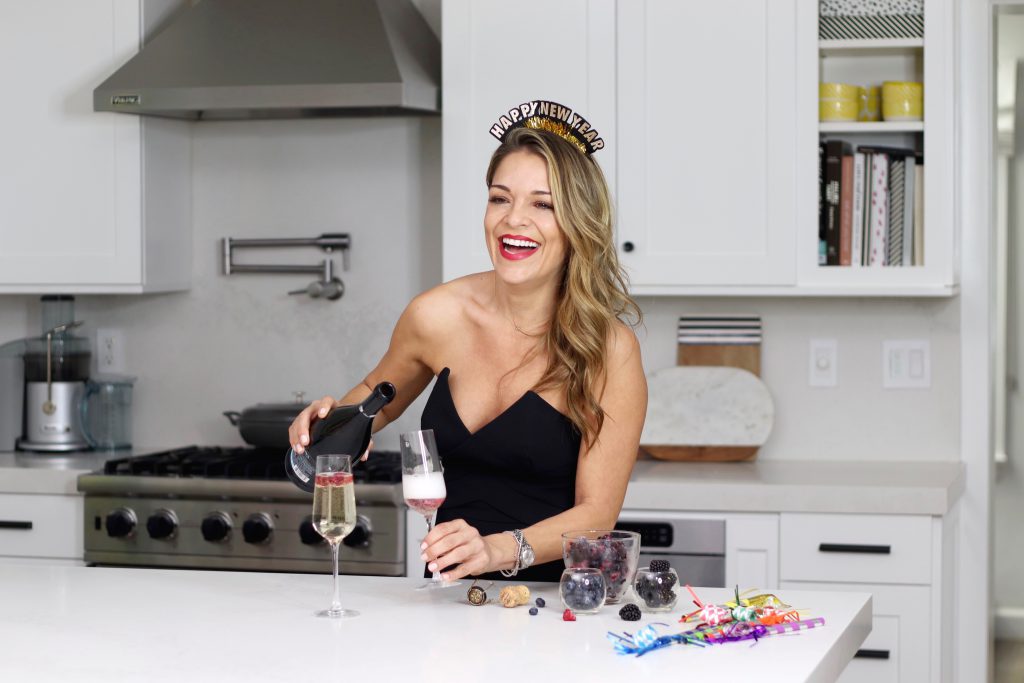 Fruity Champagne
Champagne is a classic for New Years Eve, but I like giving mine a little twist.
Ingredients:
1 cup of fresh blueberries
1 cup of fresh blackberries
1 cup of frozen raspberries
1 cup of frozen strawberries
1 bottle of champagne (6 glasses)
Put desired berries into the glass and fill with champagne. The champagne soaked berries are a delicious finish to the drink! You can either pre-make these or have small dishes of the berries and let guests build their own! It is a fun and interactive twist on the classic champagne.
*Tip: For kids and non-drinkers, follow the same recipe, just use non-flavored sparkling water!
---
Fresh + Spicy Margarita
I love a good margarita any time of the year (see my Mommy Margarita recipe). Nothing beats a fresh and refreshing homemade margarita so here is the recipe for my current fav: Fresh + Spicy Margarita.
Ingredients:
3/4 oz fresh squeezed tangerine juice
1 tsp agave or simple syrup
1 oz fresh lime juice
2 oz Silver Tequila
1 oz Grand Marnier
Salt for rim
lime wedges (for garnish)
Two cut jalapeños (seeds removed)
Ice cubes
Muddle the jalapeños into rings with agave or simple syrup until smooth. Add the muddled jalapeños, lime juice, tangerine juice, Grand Marnier, tequila and ice to a shaker and shake, shake, shake. Then wet the rim of your glass and dip it in salt. Lastly, add ice cubes to your glass, strain the mixture in, garnish with lime or a jalapeño round and cheers to the new year!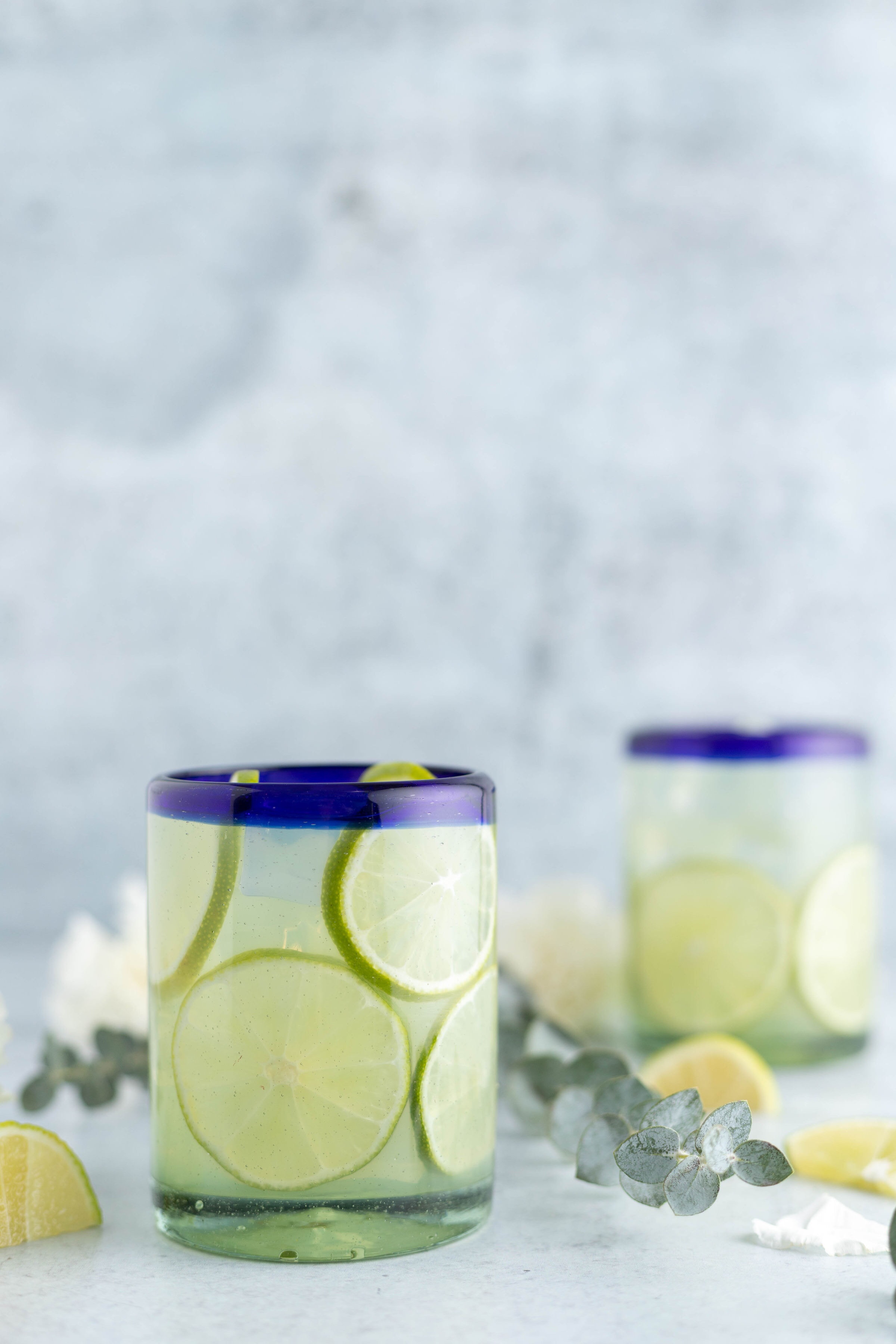 ---
Spicy Soto Sangria
Another favorite of mine, I like making this sangria and having a pitcher available for whoever wants to enjoy the festivities with decadent festive drink.
Ingredients:
1 bottle of red wine
1 orange, cut into wedges
1 mango diced
1 apple diced
1 jalapeño diced, with seeds removed
1 lime cut into wedges
1/4 cup agave
2 shots of brandy
2 cups of club soda
Directions:
In a pitcher, combine the red wine, agave, and brandy. Stir until mixed and then top with the club soda. Add the oranges, mangos, apples, limes and jalapeño and let it chill for 2 hours or more. Garnish with an orange or lime on the side of the glass, serve and enjoy!
*Tip – marinate some extra jalapeños in the sangria mixture on the side for those who want theirs extra spicy.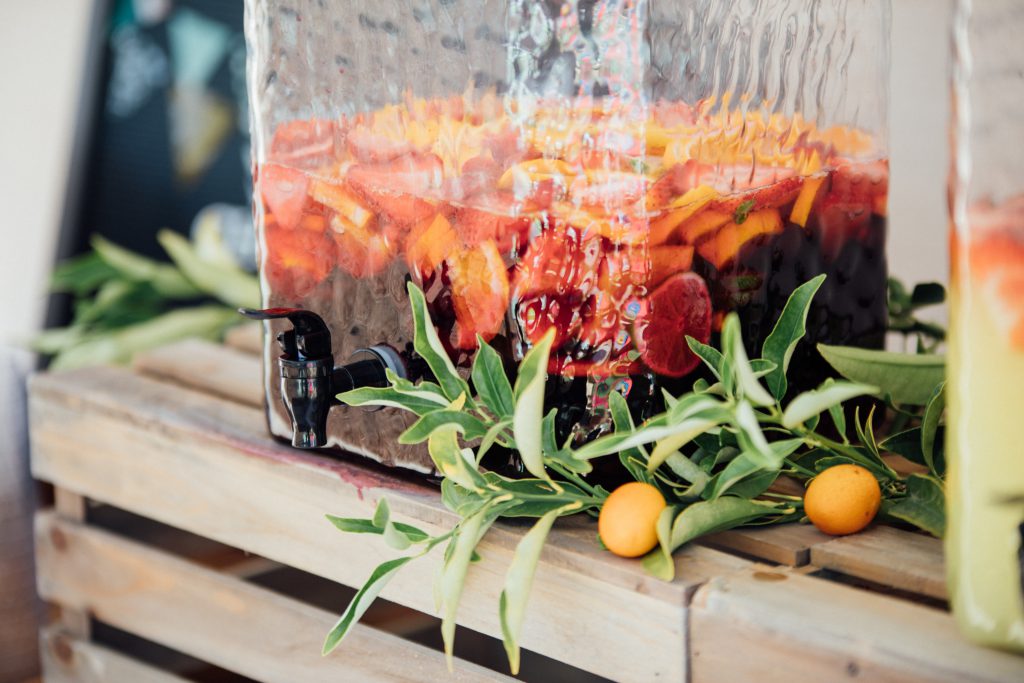 So, there we have it! My top three festive drinks. Cheers to you and Happy New Year!!
---
SHOP MY KITCHEN